Hey Everyone! I'm excited to demo two brand-new updates for Divcaster.
The first update is Divcaster's integration with Plaid. Plaid is a third-party company that connects financial institutions. This will allow you to connect your brokerage account to Divcaster and automatically import all of your transactions.
We take security very seriously, and I would not connect Plaid to Divcaster unless I had the highest confidence in the security of your data. Divcaster does not receive any of your brokerage account credentials. All we receive is the buy and sell data. If you want to know more about Plaid and the security measures they take, CLICK HERE.
Watch the video below to see how to connect your brokerage account with Plaid.
The second feature I'm excited to reveal today is our new stock data pages. You can now review stock data inside of Divcaster! We built out a page for every ticker where you can now see market data, dividend growth data, and dividend payment history!
You access this data by clicking on the ticker inside your portfolio. Watch the video above (from about 5:00 on) to see more.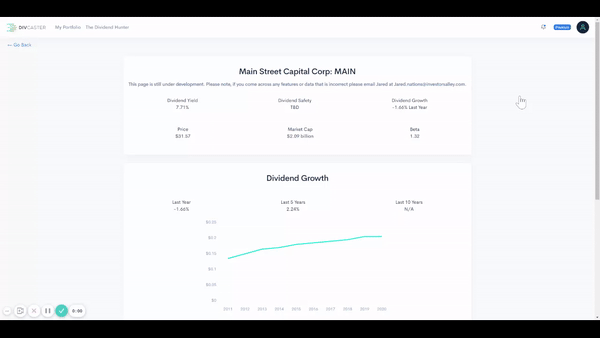 To see any ticker data in your Divcaster app, you can search it directly inside the URL.
To see MAIN's dividend data, go to https://divcaster.com/ticker/MAIN
Then replace "MAIN" at the end of the URL with another ticker to switch which data to look at.